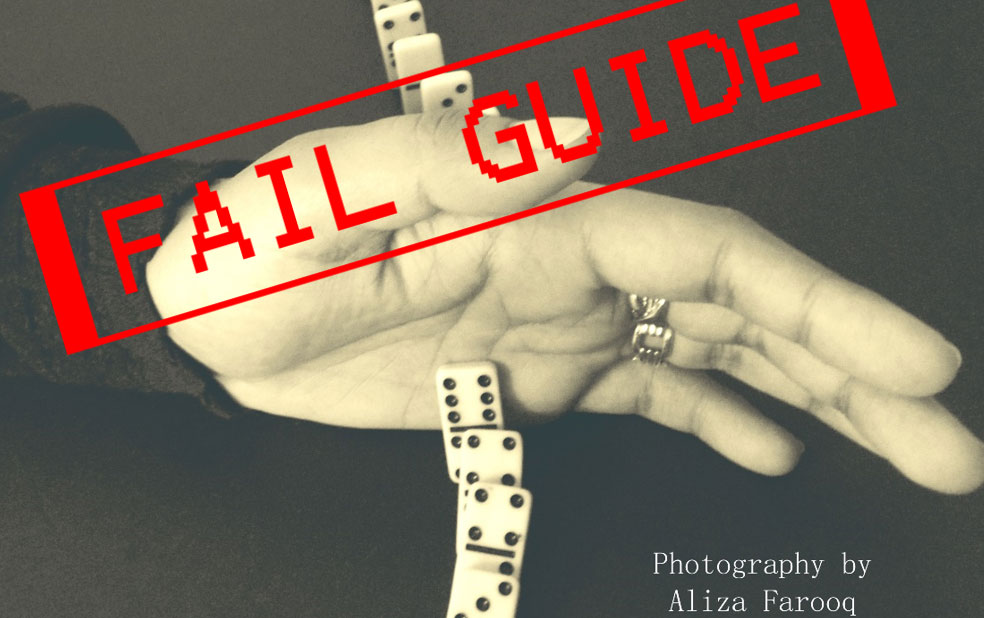 I WISH SOMEBODY TOLD ME WHEN I STARTED MY BUSINESS
Free e-guide for entrepreneurs by Hafsa FarooqPhotography by Aliza Farooq
CONTENTS
INTRODUCTION
1 WASTING TIME
1.1 PLAN
1.2 FIXED ROUTINES
1.3 TAKING BREAKS
2 SAYING YES
3 IGNORING HEALTH
3.1 SLEEP
3.2 STRESS
3.3 ILL
4 NO GOALS
5 NOT MANAGING MONEY
5.1 USING MONEY
6 NO AUDIENCE
7 TRYING TO DO IT ALL
7.1 Outsource
8 BONUS
9 P.S.

INTRODUCTION
The picture is of me but wait… what I can that qualifies me to write this e-guide?
The answer is that for the past three years I have been failing a lot. I have had successes too but that failing thing, keeps coming back to haunt me.

It is like a ghost, who thinks it is fun to see me fail. – So I thought for myself, why not make an e-guide so I can prevent others from making the same fails.

I have gathered my seven largest for you.

Even though it is important that you learn from your fails, you should not make those, which you can prevent.
A little about meI am 24-years-old, was born in and live in Denmark. I have just finished my professional bachelor in international sales and marketing and are currently an entrepreneur, volunteer venture pilot for Same Inside Different Outside, speaker, content writer and translator.
I dropped out of high school twice, where I spent a lot of time writing stories, on the internet, spending time with my closest friends and worked for my father. I did however enroll in high school a third time; this time in the business oriented called HHX, meaning higher commercial examination.

In the three years I was there, I wanted to be a writer, clothing designer, architect and then an entrepreneur, which I by the way had wanted as a child. The business plan was ready but I did not have enough money.

Finishing high school at 20, I still was not ready to jump out I wanted to educate myself. In the beginning in my second semester, I started to plan and in April 2013, I did it. – X2Nails was born.
The next two years and eight months I was a student-entrepreneur.
So for the part where I jump out in front of a bus.
Not really.
Just hypothetically.
Let us do this!
– Hafsa

P.S. I already like you.
Not because you are reading my guide but because you are clever enough to read it.

1 WASTING TIME
Let us just face it.
This is one of the most common reasons for entrepreneurs to fail. When you do not learn to manage your time you start getting stressed out, depressed and then feel like giving up because you never reach your goals.
You lose focus and start to do other things.
One of which is wasting it.

The other one is to allow getting disturbed.

You and I both know that time cannot come back once it is gone. So wasting it is stupid, to be frank. The way to stop wasting time is two words; Time management.

Yes, you have probably heard it before but how do you make it work for yourself?

Firstly, you have to learn how to use it. Figure out what works for you and what does not. Use different scheduling tools until you have found the perfect one for you. I use Google Calendar myself, because it is easy to use on both smartphone and desktop.

Maybe it works better for you, if you have a physical calendar. Who knows?

Secondly, you must master it. Learn all the different functions and figure how you are supposed to use it. When you have done that, you can start using it.
1.1 PLAN
Now, comes the planning.
If you choose not to plan ahead, you should know that things will not go your way. There will always be unexpected things that you suddenly have to do and it can ruin your business.

And let us face it. Things tend not to go your way most of the time.

Therefore, to plan ahead is very important

One month or a year, however you find it easiest.
I have actually written an article where I go through the three essential planning tools for entrepreneurs.
Yes, thank you! I would like tocheck it out!
1.2 FIXED ROUTINES
After or under the planning process you need to get some fixed routines that works for you. We are all different so you have to experiment to see what really works for you and what does not.

Do make sure to follow it.

You have to be honest to yourself about following your routines otherwise; it will not help a bit. You might even need to make a reward system where you after certain tasks reward yourself with something you enjoy.
1.3 TAKING BREAKS
The last thing about time management is taking breaks from work. It is important even if you think it is not. I am personally not very good at this but I am very lucky, to have parents who make sure I go on vacation even if they have to pay for it.

To help me take a break from work.

That is how important it is.

So please start managing your time, otherwise you will lose interest in you company or idea soon. No matter how great it is.
2 SAYING YES
STOP keep saying yes!
Really, I am not kidding.

As an entrepreneur, you want to do so many things. You probably have your time spread out on different projects.

I know I do and I keep getting requests to join more.

The time you have, you divide between sleep, work, family, friends, hobbies and the like. You actually do not have so much left. Therefore, it is important for you to know your limits and to start saying no.

Do not bury yourself in late nights, poor health and stress.

Just say, no.

For me it is very hard because I like to challenge myself and to learn more. By doing so I have been expecting too much from myself and ended up giving in to the consequences.

Please do not fail because of this because it is just a sad reason to do so.
3 IGNORING HEALTH
Just stop it.
There is only one you in this world. Have you ever thought about that?

Just one.
There is nobody else exactly like you.

You cannot be replaced so you need to start taking care of yourself, right now.

We all have someone who needs us. Whom do you have?

Protect the person by protecting yourself.

Many entrepreneurs suddenly gets backslapped by some illness they could have avoided by taking care of themselves. It is not like you have to go to the gym to work out. Just go out for a run a couple of times a week. This way your mind also gets a break and you might even find a solution to your problem.

Look out for yourself and the ones you love by taking care of yourself.
3.1 SLEEP
The second thing is to start sleeping right.
This is very important.

By sleeping too little your brain does not get enough rest, which makes you a lousy partner, boss, employee or the like, as well as you cannot give it your fullest, when not completely rested.

The thing is that we only have 24 hours a day and seven to eight of them we have to use sleeping. Think I am wrong? Then read my article on how to become more effective by sleeping right.
All right, let me read your articleon sleep.

There has been a lot of research done on sleep and five to six hours are simply not enough for most of us.

And no, caffeine cannot replace sleep.

Promise me you will figure out how much sleep you really need.
3.2 STRESS
It made me miserable.

I hated myself and was buried under tons of work between school and X2Nails. I flipped out all the time, did not want to talk to anyone, I started forgetting a lot and I could not concentrate like I could before. – It was bad.

Not even being able to take care of myself.

I hated that.

I even got to the point where I almost wanted to quit everything I had been working on the past years. My company and my education. It felt like I was never getting anywhere. Working so hard every day and I could not see the progress I was making because I was buried under so much work.
I went to my doctor and she said I needed to start scheduling and plan ahead so I would avoid getting overwhelmed by things I was supposed to do and it would help me get rid of the stress.

How I learned to do that you can read the article I referred to earlier in the section: plan.
Yes, thank you! Let me read it.

One thing that helps me get rid off the stress, is exercise.

I run, you can do fitness or jump on a trampoline. Whatever you like or can find the time for.

I have a rule for myself.

A minimum once and a maximum of four times a week.

Stop stressing!
3.3 ILL
As the result of stress, I started to get ill all the time. There was something wrong every other day. My head hurt tree to six times a week and I was getting the flu or cold more often than ever before. My immune system became very weak.
This was also the result of stress.

Just because I did not really take care of myself, I was hurting and of course, when I was ill all the time I could not work as efficiently as I usually could do.

Luckily, I managed with the help of my family.

Many people will not ask for help from their family and that is all right. As long as you talk to someone about it. It can be a friend or a stranger. Just talking about it helps.

There are many free and anonymous hotlines in different countries where you can talk to someone who has experience with stress.

Just google it.

Get help before you do something stupid.

Your doctor can help you too.

Yes, you can prevent getting ill most of the time.
4 NO GOALS
This one is very dangerous and many choose to remove focus from this, which usually result in failing with their business.

When there is no goal to work toward, you will not get anywhere even if you work your ass off.

By setting goals, you can do great things.

They can be for a month, six months, a year or more.
Look at them occasionally when you feel like you cannot do anymore or print them out and hang them over your workplace for motivation.

This way you will have your own guide.

It is ok if you do not reach your goals, you probably were very close at reaching them but the trick is to keep working towards them, which will help you make a difference and not just waste your time.

You might even reach them.

Next step is to do a follow up or a reflection and think about what you could have done better, what works for you and what does not.

As a minimum, you should do his once a month.

This is something you should never let go.

You need to find out how you work most effectively and then keep going.

Ready, set, go!

5 NOT MANAGING MONEY
Money is a big problem for most startups and the main reason for the failure rate among startups. If you do not learn to manage your money and do not have a rich uncle or the like who will lend you money, you are bound to fail.
Even if you get the money, you will fail.

It does not have to be a loan it can even be a money grant.

The thing is, that if you do not use the money "smart" eventually you will run out. It will happen repeatedly if you somehow obtain more.

Starts managing and you grow your treasure.
5.1 USING MONEY
You use money before you have them. Which is stupid in a normal persons eyes, but when you are an entrepreneur, you tend to be very optimistic. That optimism makes you think that you will have the money when you have to pay the bill.

It might even be true.

But what if you do not? What if you have other unpredicted bills, just as important? Where will you get the money?

That is why, I have made a rule for myself, that I will never use a penny that I do not have.

I always make sure that I have some extra money.

That is why my business is still here after three years.

Another thing you need to know is how much money you actually have. Not what your bank balance is but what you actually have. You might have some bills that vary according to your sales.

For example you might have 10,000 DKK in your bank but you have 3,000 DKK in varying bills. This means that you actually have 7,000 DKK.

This is called liquidity or to make it easier to understand net amount available.

Start controlling your business liquidity, before it is too late.
6 NO AUDIENCE
This is one of the biggest mistakes and a mistake that cannot be undone.

Let me ask you this.

Who are you going to sell to if you do not have an audience? And do not say your target group.

I will be honest and tell you this.

You need to find an audience before you officially open, the reasons are, one: you probably do not have money to waste on gathering an audience because you have probably used all your money on the opening and two: no one knows about you.

All right, maybe your friends and family but that is it.

You and I both know that is not enough.

Actually, at this point you will figure out who is really your friend and who supports you. This is their test. Those who say they will buy from you and do not, they are not the people you want to spend your time valuable on.

Of course there will be some who will want to buy from you but do not have the economy. They will help you in other ways. An example can be that they like and comment on your posts on social media.

Get it?

Then comes the question on where to gather the audience? There are many platforms for that. My favorite is newsletters but you can use different social media, wherever your target group actually is.

Start gathering your audience, before you launch.
7 TRYING TO DO IT ALL
I know you probably do not have money to hire a professional but the least you can do for yourself is to get the help, which is available for free. By free I mean there are many entrepreneurs out there who are willing to help you.
Some will help you out very cheap.
Others will even do it for free.

Neat, right?

Now you are probably thinking, how do I find them?

On social media.

LinkedIn, Facebook and Google+ have tons of different groups for entrepreneurs. If you are for example looking for blogging experts, I guarantee you if you search on these social media you will find a couple of groups with blogging experts in it, who are willing to help.

Amazing, is it not?

The internet has made it so much easier to find what or whom you need.

You just need to search in the right places.
7.1 Outsource
Another choice you have is that you outsource that particular thing. It can be a one-time task or a
recurring task.

No, stop thinking you can do everything.

You cannot.

Seriously, it is cheaper to outsource some things.

Think about it.

There are things you can learn fast and there are things which will take you forever and that does not even guarantee that you will be able to learn how to really, do it.

Let me give you an example.

You need a web shop. You have tried making a web site before but never a web shop. A web shop is more complicated to make than a simple website. You get an offer to have it made for 5,000 DKK but you think that is too expensive. Therefore, you start making your own.

One month goes by and your web shops opening is getting closer. The web shop is still, not done. You have tons of work to do other than working on the web shop.

Suddenly, there is only one week left to the opening and now you contact the graphic designer you had gotten the offer from in the first place but he does not have time to do it in this week. He has other clients he is doing some work for.

You ask around or search for one on the internet and you find one who can do it in one week. It is going to cost you 10,000 DKK.

In conclusion, you have now wasted a month working on and off on the web shop. The time you could have spent on marketing or something else. You also had to pay 5,000 DKK extra to have the web site made. The money, which you could also have used on something else.

Do you see it?

Not outsourcing from the beginning costs you so much time and money.

Promise me, you will not try to do things that you suck at.
8 BONUS
As a thank you for reading all the way to the end, I have a bonus tip for you.
To be a successful entrepreneur you need to stay motivated and have a drive that makes you keep going.

When you find yourself in a place where you have lost your motivation, you need to think about why you started and keep going.

Occasionally you will need to take a break but do not go astray.

You need your business and your business needs you.

Do not leave it. – Grow it.

I wish you a lot of success!
Kind regards
Hafsa Farooq
Entrepreneur
9    P.S. I would love to hear from you.

You can also tell me what you think of this guide or what I should write about next.

You are more than welcome to connect with me on LinkedIn: Hafsa Farooq. Follow me on Instagram: @HafsahbintFarooq for weekly motivational quotes. If you are more of a Facebook-person, you can follow my page: Entrepreneur Hafsa Farooq for daily tips and updates from my entrepreneurial journey.